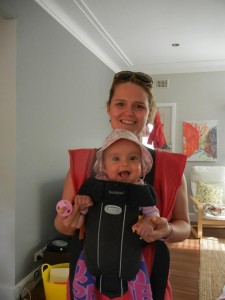 The other day one of the 'likers' of the Facebook page asked me what it is like after having two kids and how that has affected my weight loss the second time, especially in regards to an exercise plan.
In regards to my weight loss program and exercise plan it has definitely been less 'structured' after the second baby. With specifically my exercise plan, the plan is basically just to do some exercise each day.
Sometimes it is difficult to find a full hour or so with two kids to complete a proper session. Especially since my 3 year old does not sleep anymore during the day and she wants a lot of attention now the baby is around.
With my weight loss program, I was more conscious while pregnant this time so put on a few less kilos, but in saying that, it has been slower to budge as I have less time to focus on myself, even though food and nutrition is my background.  This is how I came across Lose Baby Weight, specifically the 28 day weight loss and exercise plan and the Healthy Mummy as everybody, even me, needs some inspiration sometimes.